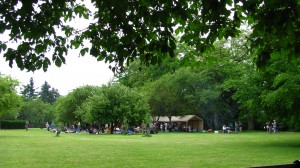 ALL 2015 VOLUNTEERS AND FAMILIES ARE INVITED TO PARTY WITH US- EAT, SMOKE AND BE MERRY!
GIFTS FOR VOLUNTEERS!
You are cordially invited to join us as we bring unity to our community and increase our peace at this year's Seattle Hempfest Volunteer Potluck Picnics.
Seattle Hempfest Volunteers have been meeting at Meridian Park in Wallingford every summer since 1989.
Look for us on the west side of the park, under the 10×20 canopies.
Feel free to bring outdoor toys, and something to sit on!
This is a potluck picnic- feel free to   bring a dish to share! You should mark your dishes/serving utensils with your name, and it's helpful to note: Meat / Fish / Dairy / Vegetarian / Vegan / Gluten-Free, etc. for folks with food sensitivities.
We provide canopies, grills, meat and vegan burgers and dogs, and all the compostable utensils, napkins, and dishes you can shake a stick at. Please do not bring plastic utensils or non-compostable plates/cups, etc. We are serious about composting at our events!   ;-)
We want everyone to have a good time, so please respect our rules;
All pets must remain on a leash. No alcohol, no drumming [We love drums, but "loud drumming" is the only complaint we have received at this event…] Tobacco smokers please use designated cigarette smoking areas, to respect those with allergies.